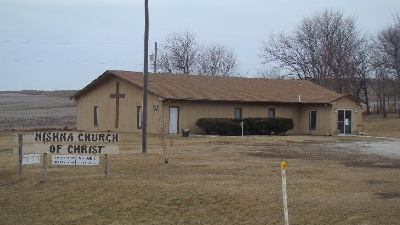 THE START OF A NEW YEAR!
With the start of 2014, we hope that many of you will come and try out our church, hear the truth that comes from God's living Word, and fellowship with some people who are just trying to walk with Christ each day. There are plenty of things for children and every age group and we would love to have you as part of our family!


Nishna Church of Christ

We are making an effort to present you with our entire spectrum of information as soon as possible. At this point we can provide you with any information regarding our church if you would just give our Pastor a call at 308-962-0033.

You can also contact us at our e-mail address: arapahoepreacher@yahoo.com

If you are not familiar with our church and your first contact with us is online: We would be pleased to hear from you! Please let us know what your needs and questions are, we will be more than happy to help.

In brief, you should know the following about us: our church was established in 1978, and has gone through many different stages of growth and decline. We are looking to grow our church according to the direction given in the Bible and the needs of our community and those needing a solid personal relationship with Jesus Christ. Our church is located just north of Red Oak on highway 48.